Our Franciscan Habit
Our Franciscan Habit is the ring that each member recieves as he or she makes their vows as a Franciscan. The ring is made of silver, and portrays the Tau cross of St. Francis, covered by the dove representing the Holy Spirit. The edges of the ring are formed as a cincture, the rope which surrounds the waist of the Franciscan in a traditional monastic habit. The rope contains three knots, which represent the vows taken at one's profession: Poverty/Simplicity, Humility, and Obedience.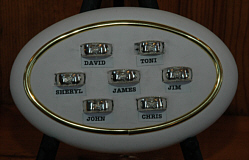 The normal daily Habit of the Order is the ring, that it may be worn 24 hours daily every day of the year. Many members also wear crosses around their necks at their own discretion. Ordained members may wear clerical collars, with shirts of black or sometimes franciscan brown. During liturgies and formal services, white albs, and cassocks of black or franciscan brown along with a white monastic cincture containing three knots may also be worn. Priests celebrating the Eucharist will usualy wear a colored chasuble, and altar servers (lay or ordained) may also wear albs and cinctures.